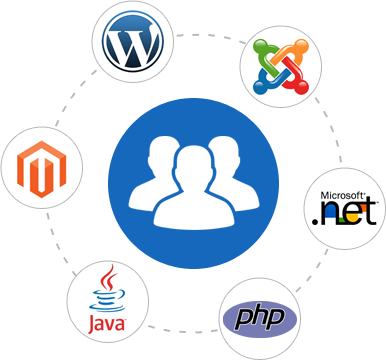 In the competitive world, it is an inevitable aspect to achieve success when you invest hard-earned money. We as an outsourcing company here promises you to help in achieving your goal at substantial scale by providing an option of "hire expert" that serve you with quicker, supple, and inexpensive solution for project triumph. The option of hire expert is designed to figure out staffing problems, as it is a great concern for any organization as it reflects growth of business and to relieve this complexity, we offer three flexible business models on base of our experience that suits every industry requirements like a dedicated, hourly, and fixed cost basis. Our highly expert team including Web designer, web developer, and online marketing professionals will dedicate themselves in achievement of your assigned projects.
Why hire from us:
Hire dedicated resources from us provide you continuous monitoring, highly experts, and timely completion of projects make us stand out in a cutthroat competition. By offering assignment of your project, you will get up-gradation of a software product, setting up your own developer team, 24/7 technical support, periodically maintenance, and any other regular amendments from us. Benefits that are linked with our Hire dedicated resources are as below.
Experienced team for programming, development & customization
24/7 technical support wherever you are we are ready to response you
Uninterrupted communication via email, phone, contact us form
Ethical practice with optimum customer satisfaction ratio
You have full control on your project with our client centric approach
Fully flexibility to choose the best hire expert package as per project requirement
What we offer:
Depending on various business models, we try to provide optimum output and dedication to our client projects. Our hiring services are adjustable according to client's requirement. Deal with immense experienced professionals who cognize the ins and outs of software development and programming. Our hiring service offers you enormous benefits as,
Flexible agreement according to client's requirement
Complete transparency in contract terms & conditions
Utilization of best resources in a productive and professional environment
Strictly pursuance of standard and compliance until the completion of project
Project details whether minor or major will be kept confidential
No contract breach or alteration without client's previous consent
Types of Hire Service we offer:
We understand the global project requirements and according to them, we have segmented our hire service into three parts that are most suitable with different client's requirements. To get effective and efficient solution without investing on infrastructure, hiring resource is an ideal option to bring out an optimum project solution by expanding virtual staff and can grow your business considerately.
Pay per use: In Pay per Use model, you have flexibility to pay only for number of hours that a designer or developers have invested on your work. The same quality output you would get according to your requirement. You can renew service once the decided hours completed. The main advantage of this type of service is Project work dedication and planned hours.
Reserved Business Model: Our dedicated business model is made for those enterprises that need fully focused expert assigned to only their projects. Such model is suited for companies that have large outsourcing projects, website maintenance, carrying multiple projects. You can decide whether you need part-time or full-time experts and we provide the best expert for your dedicated project that will give project update and essential project reports.
Fix Cost Model: In Fix cost model, we receive an enquiry about Project and after determining the scope of work, we send you pricing and estimated timeline. After receiving your consent our technical team analysis your project. After completion of the project, our QA team performs quality testing of your project and then we allocate project to you to test the functionalities. This model is suited for pre-defined project structure where the project scale finds the highest importance.
what peers are saying
Doing great! We were not sure and were afraid of the future, but these people have done and we make out is all due to your efforts and expertise and we cannot recount you how happy we are.
You have the implausible knowledge to consider to all technical aspects of websites. You all are in truth gifted, with different prospects of what it wants to make a productive website.
Working with FTI Tech was really a memorable experience. The team has well versed with design and development and has always come up with innovative ideas to make our web presence delightful.
Henry Y.
Real estate agent